industry
SEO for
Accountants
Back to Finance
SEO can deliver an impressive return on your marketing spend in terms of increased website traffic and leads. It can also help to grow brand awareness and your professional reputation in the accounting industry.
Targeted SEO has a proven track record of delivering impactful SEO campaigns for accountants that produce tangible results. We work with all sorts of accountancy firms across the UK, large and small, local and national, general and specialist.
Our knowledge of the accounting world, combined with our SEO expertise, has produced outstanding results for our clients, and we welcome the chance to do the same for your firm.
Table Of Contents
Grow Your Accountancy Firm with Organic SEO
In the crowded financial services market, SEO is the key to online visibility for accountants. Where does your firm currently appear in search results for accountants in your area? How about searches for your services or specialisms? It's a well-worn joke, but the best place to hide a dead body is on page two of Google.
Search engines use a myriad of algorithms to sort or 'index' websites hierarchically, and there are many techniques to help get ahead in the rankings. In a nutshell, it involves an overhaul of your entire website to make it search engine and user-friendly.

SEO can turn your online performance around and deliver you impressive results. By that, we mean more website traffic, more brand awareness and more business.
Apply for SEO consultation
We have worked with Targeted SEO for a number of years now and highly recommend them. They have contributed towards the growth of our business (over 600 clients and counting) through their effective SEO and web design service. They also successfully managed the rebranding of our company website so no rankings and traffic were lost, developed a local SEO campaign and continue to provide a valuable marketing service to our business.

Jeri Williams
Improve visibility in online searches
The goal of SEO for accountants is simple – to reach more of your target audience in response to online searches for your services. The most valuable way to do this is by increasing organic (rather than paid-for) search results.
Increase website visits and enquiries
Once your site has matured, it's more likely to rank on page one of Google for your services in your local area. When looking for an accountant, users are much more likely to click on the top-ranking firms. More click-throughs mean more website traffic, which inevitably leads to more enquiries.
Grow your brand and accounting reputation
Accountants come to us to improve their search engine rankings and get more website visitors – but stay with us because we deliver so much more. As a result of our SEO content strategies, we have helped many accountancy clients to create a distinguished brand identity to win customers' hearts as well as minds (along with Google's approval).
Impressive ROI
The beauty of SEO for accountants is that it's largely a numbers game. Your success can be easily measured using smart, live analytic tools. So when it comes to your return on investment, you can see it on the page. What's more, our campaigns are geared towards growing organic search, the results of which have much more longevity, giving you a better return.
We specialise in SEO for accountants
Like you, we're experts in our field and we also have a fair deal of knowledge about small business accountancy. To put our money where our mouth is, please take a moment to look at the results we have achieved for other accountants. If you think we could be the right fit for your business, please get in touch to apply for a callback.
Apply for SEO consultation
Our Specialist SEO Services For Accountants
In our experience, we've achieved the best results for local accounting firms with a strategic mix of on-page SEO, off-page SEO, local SEO and content strategy. This is not to say that any two accountancy SEO campaigns are the same. Starting with a detailed analysis of your business and website performance, we can devise a bespoke, fully-integrated, fixed-price SEO campaign aimed to achieve your business goals.
Your bespoke campaign is likely to combine elements of all our key services:
SEO audits
An audit of your accounting website is always the first stage in your SEO journey. Our audits involve an in-depth analysis of your website's content, structure, and performance in search engine rankings (SERPs). From there, we can identify areas of improvement to inform your SEO campaign.
Learn more
Optimised web design
The advantage of designing your website from scratch is that it is built with SEO in mind, meaning it has a head start in the rankings from day one. We will work with you to fully understand your business and produce a site that reflects your brand and helps you to meet your goals.
Learn more
On-page SEO
The goal of on-page SEO is to enable your website to 'talk' to Google. We refer to the Big 3: technical SEO (e.g. metadata, URLs and schema markup), SEO content strategy (high-quality content on each and every page), and user experience (e.g. fast page loading, ease of navigation).
Learn more
Off-page SEO
Off-page SEO is so important to accountancy businesses as it establishes your reputation outside of your website. Techniques like citations and backlinks prove to search engines that your site is reputable and, therefore, useful to users. This will result in your site being indexed and ranked higher.
Learn more
SEO content strategy
As a service-based business, it's important that your accounting website is packed full of insights and information that are of genuine use to your audience. Google prizes high-quality content, as do we. Our content is always produced for users first, with keywords effortlessly weaved in to increase searchability.
Learn more
Local SEO
If your accountancy firm serves a particular region, then local SEO is essential to be visible in 'near me' search results. Local SEO techniques include things like schema markup, local citations, keyword strategy and optimising your Google business profile. This provides search engines evidence of your geographical area, which they can match to relevant user searches.
Learn more
National SEO
If you have your sights set on taking your accountancy business national, then we can help. National SEO is naturally more competitive, especially in the financial market, but there are strategies we can employ to help you to increase your visibility, such as SEO content strategy and smart keyword research.
Learn more
We can deliver you real results
Our website design service is unique as our clients benefit from our considerable expertise in results-driven SEO. Each accounting website we design is fully optimised for search engines, helping accounting firms to climb the Google local rankings and achieve a competitive advantage.
We ensure that our clients get the maximum value out of their digital marketing spend, resulting in tangible, measurable benefits. We will help your accounting company to:
Boost website traffic
Grow your reputation and distinguish your brand
Be among the top-ranking accountants in local searches
Increase website conversions
Generate more enquiries and leads to expand your client base
If you would like to discover more about our SEO and website design services, apply for an SEO consultation by completing our form:
How Smooth Accounting Attracted 600+ New Clients with
SEO

It was clear from the get-go that Jeri Williams was more than your average accountant. She had a clear vision of where she wanted to take her brand and her sights set on substantial growth. Our SEO and web design support, combined with Jeri's dedication and social media presence has helped to achieve her business goals, and then some.
Increase in organic

traffic (first 12 months)

+513%
Pages with high organic

traffic

71
Page 1

rankings

44
Organic keywords in the top 5 search

results

172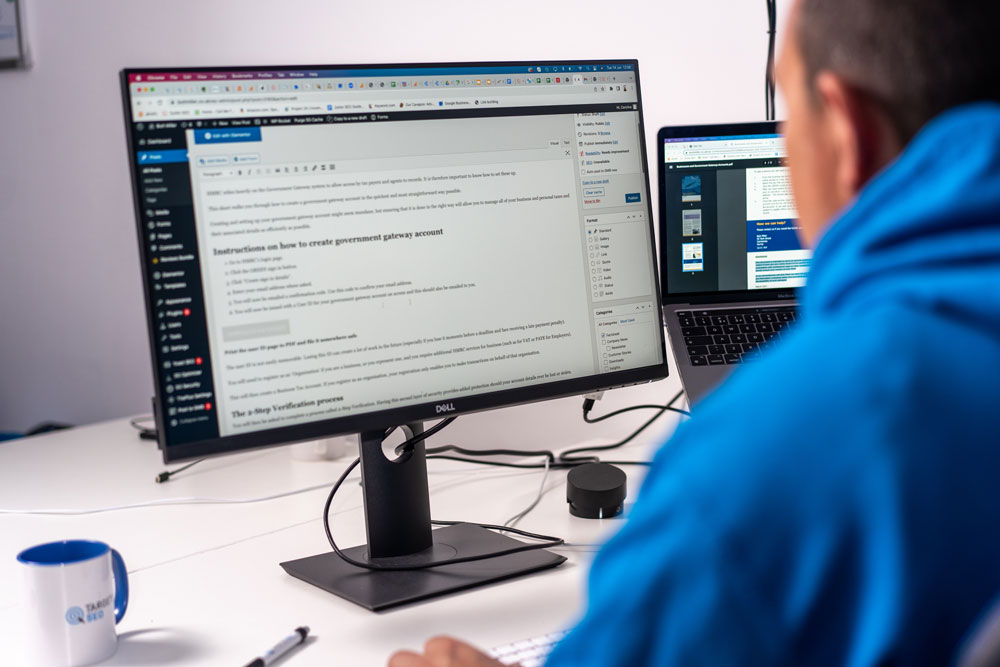 Why Choose Targeted SEO For Your Accounting Firm?
Targeted SEO has come to specialise in bespoke, organic SEO campaigns for both local and national accountancy firms. Our aim is to help them grow their online presence, create brand-enhancing content, increase leads and, ultimately, add value to their bottom line.
Our experience of working with many great accountants all over the UK has given us a unique insight into what works in terms of SEO and what doesn't. We've enjoyed great success in helping our accountancy clients to grow their visibility in organic search results and drive new business.
If you are looking to grow your accountancy business, we can help you to stand head and shoulders above the competition and increase those oh-so-valuable enquiries and leads.
Get in touch with Targeted SEO to apply for a 20-minute consultation:
Contact Us
We have used Targeted to build our new website for a mortgage brokerage and also to do all our SEO and wow what a website and we have seen amazing results in a short space of time. Pushing to 1st page of Google on keywords in brand new locations!

A. Simmonds @ Simmonds Mortgage Services

Targeted SEO recently moved my website from Wix to WordPress. Very smooth transition with no issues at all. They also completed a full rebrand of my business and captured my vision completely! Very professional looking site with great feedback from our clients already. Friendly team, very quick to respond to requests, I look forward to working with you guys on the SEO going forwards!

J. Wheeler @ Jameco Group

Really happy with the work done by the team. They have massively improved our website's look. It looks so professional! Potential customers looking at the website will now have a great representation of what we're are and what we stand for. The team is very responsive and are really great guys. Thanks guys 🙂

C. Demetriou @ Archimedia Accounts

I cannot recommend Ben and his team highly enough. Ben is always super helpful, knowledgeable & hard-working. Since using Targeted SEO for my business website, my new client leads have increased dramatically. Thank you Ben for all you do for my business. It's 5 stars from me!

S Dillaway. @ Elite Business Accounting

We have used SEO companies in the past and been disappointed in their results, just sending through a generic update report once a month with no strategic thinking and proactive plan to improve our website traffic. Targeted SEO are working on our website and organic SEO campaign and so far we've been impressed with the level of service we have received. Our new website is now starting to generate new leads and enquiries and do the job it was designed for.

J. Lambert @ Redwood Financial